There's a change in the air. The generative AI arrival party continues to impose both vile and blissful narratives that seek to shape our future in one way or another.
On May 10, Google unveiled a first look at a new AI Google Search experience at their namesake's I/O developer conference. The demonstration exhibited a robust search results page venture that unquestionably trumped the current ecosystem. However, for some, the image of AI cannibalizing a Google question with an unsourced natural language response felt traumatic. Mainly because as you'll see, publisher exposure drops dramatically. 
We will discuss the details of Google's search experience unveiling and how it might affect the digital marketing industry. 
Google Unveils New AI-Driven Search Experience
Google's unveiling of a new search experience features generative AI responses as central to the search engine results page. Google demonstrated the power of it's proposed search interface by asking a complex question: "What's better for a family with kids under 3 and a dog, Bryce Canyon or Arches National Parks?"
The result put on display a powerful search results experience that answered the question in great detail. 
You can see it here: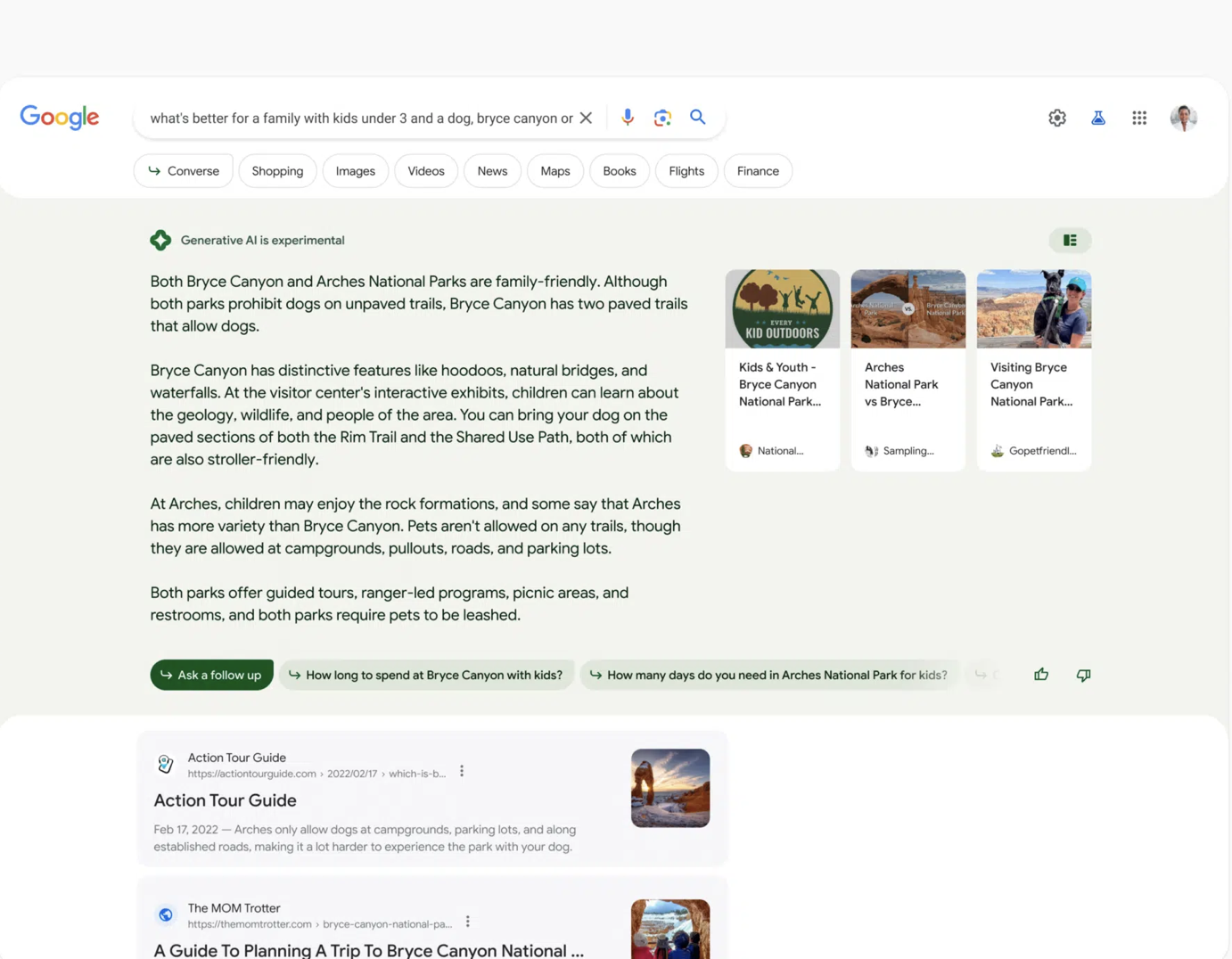 In a coinciding Tweet, Google's pitch focused on improved user search experience as central to the theme. 
With new generative AI capabilities in Google Search, we're now taking more of the work out of searching, so you'll be able to understand a topic faster, uncover new viewpoints and insights, and get things done more easily. Learn more and how to sign-up for our Search Generative… pic.twitter.com/V3OK1KHYEn

— Google SearchLiaison (@searchliaison) May 10, 2023
Before we delve into criticisms of the potential change, let's explore what the core components of the changes are. 
Goodbye Featured Snippets
The most obvious alteration to the proposed generative AI search interface removes the recognizable featured snippet. The paradox of this proposed change isn't lost on us. The featured snippet was originally met with resounding criticism by publishers who felt that displaying a webpage's content before the click harmed the publishers. 
There's evidence this turned out as accurate. For example, we have clients who hold powerful featured snippets. We see a drastic reduction in click through rate (CTR) in places where they have a featured snippet. As a result, many searchers get the information they need without clicking.
That said, many ultra-interested searchers do click. From a search engine optimization (SEO) perspective, featured snippets offer a dual reward of top link and the expansion of search results page real estate. When your website occupies more search engine results pages (SERP) real estate, it pushes your competition lower. 
But alas, the apparent conundrum: if a featured snippet cannibalized clicks, a generative AI answer that doesn't feature the source of the content will further decimate those analytics. 
And thus, Google presents publishers with an experience that further cuts into advertising revenue and lead generation. 
The Addition of "The Top 3"
Google places three links on the right side of the generative AI response.
At first glance, this is a consolation prize for those websites which lose out on previously featured snippet links. But there needs to be confirmation from Google that these links will utilize those website pages.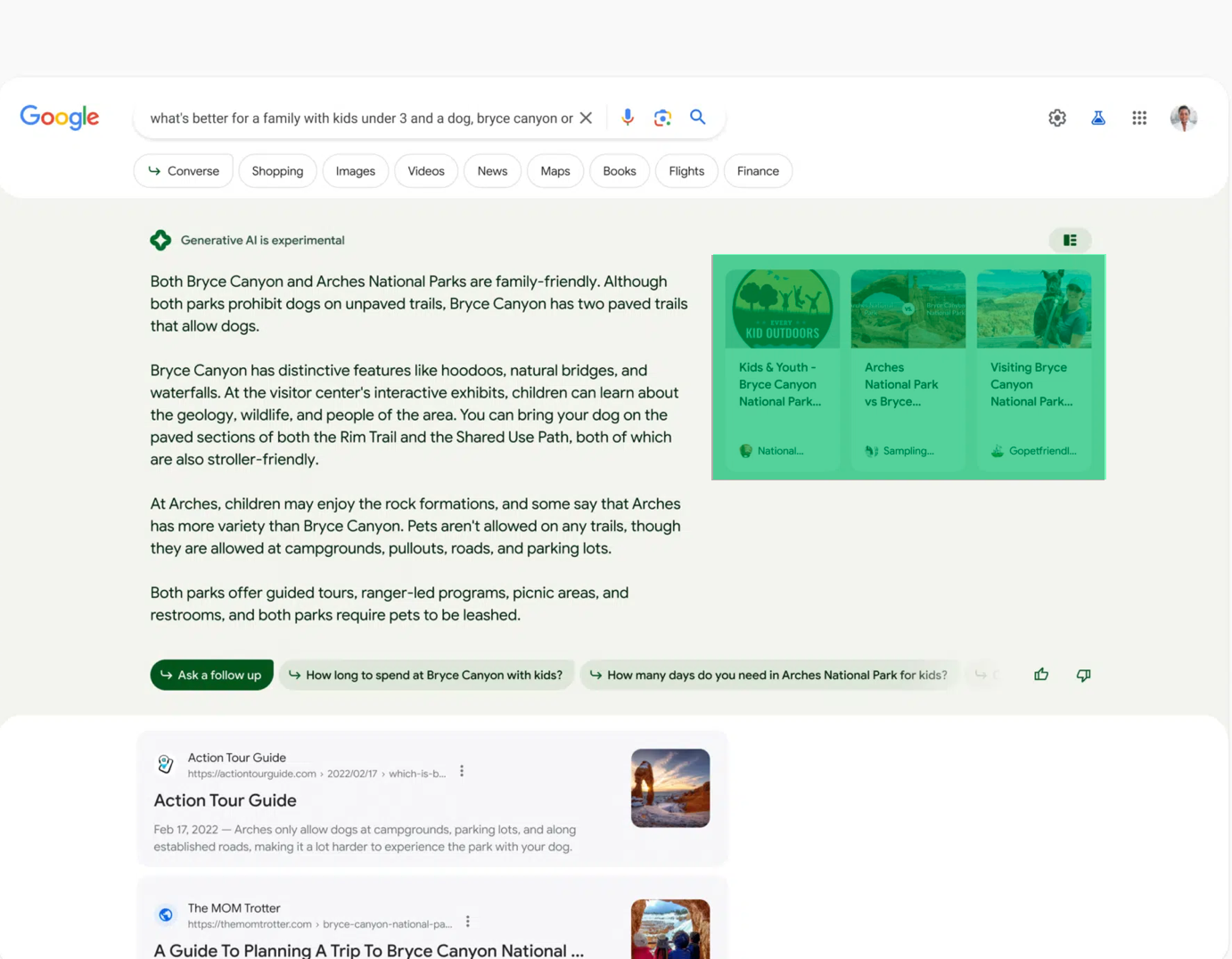 Further, given that the generative AI response offers a more complex result than a featured snippet that showed a "taste" that encouraged a click, we'll assume a possible drastic drop in CTR. 
A New Shopping Experience
Pages of search results tied to shopping intentions will also see enhancements due to generative AI. Let's take an example search query, "good bike for a 5 mile commute with hills." Observe how generative AI produces a response while traditional sponsored ads occupy the upper section. 
As you navigate downward past the generative AI section, you will encounter an explanation designed to aid your shopping expedition. In this scenario, the generative AI provides valuable advice regarding aspects to consider when selecting a commuter bike.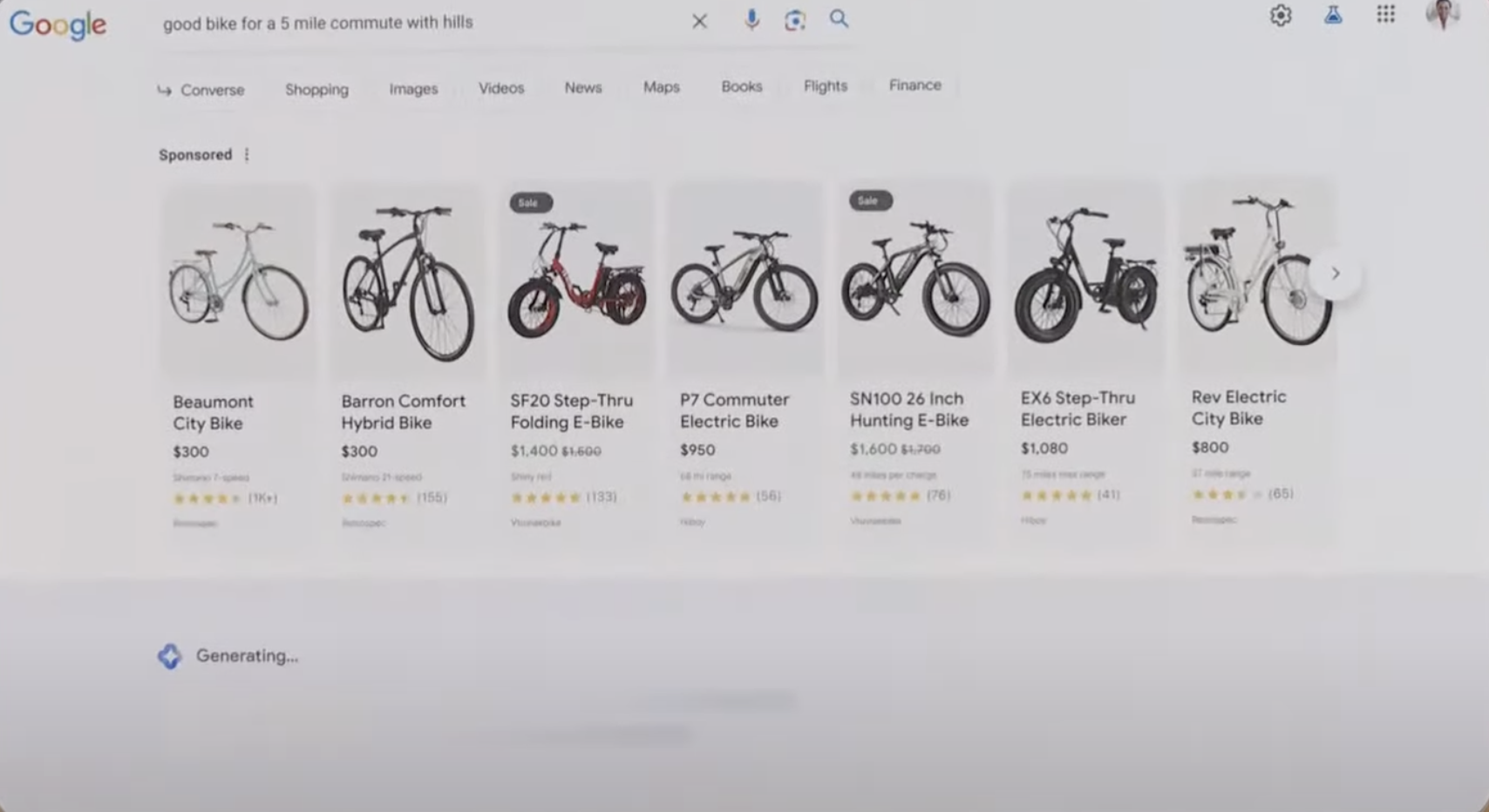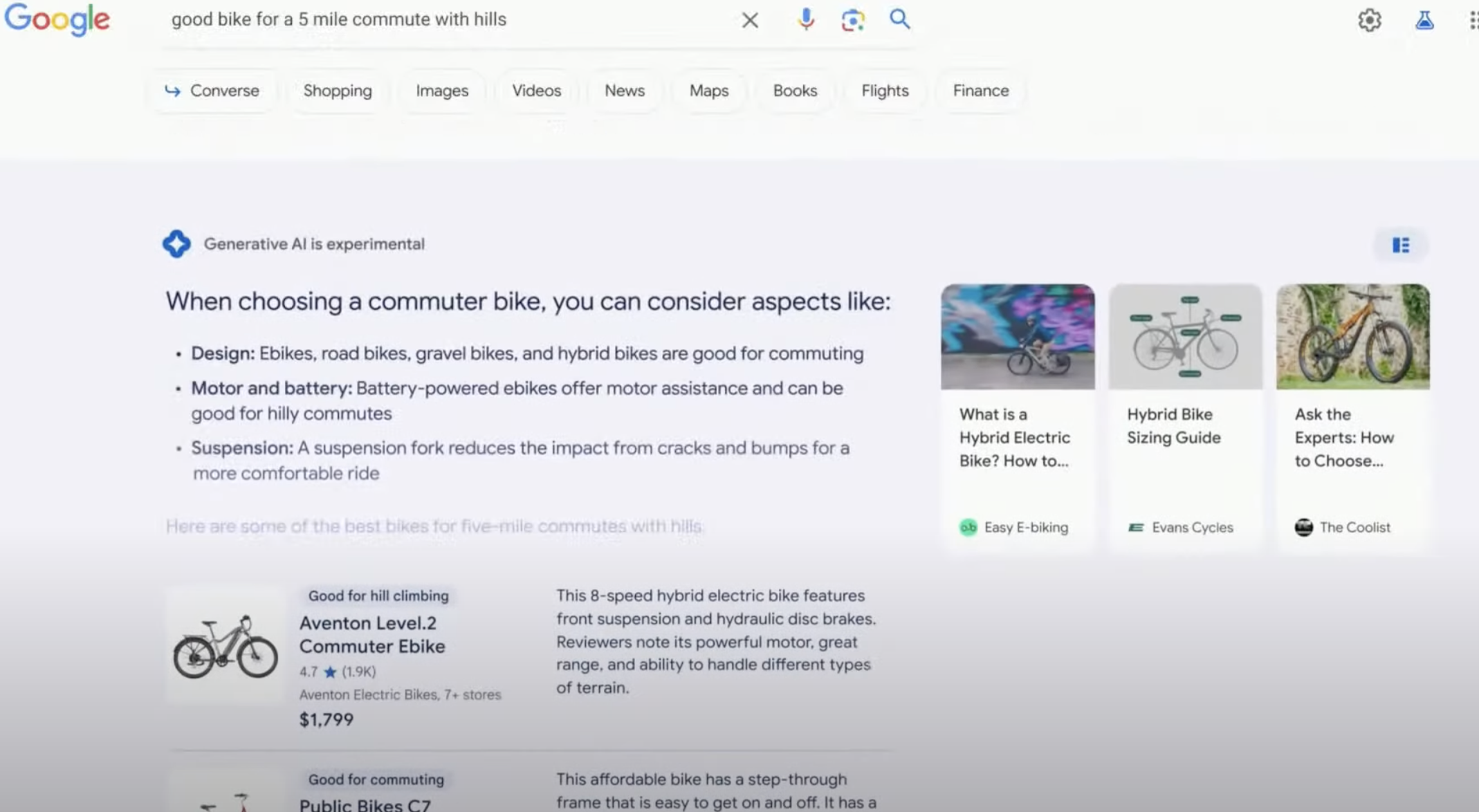 Conversational Prompts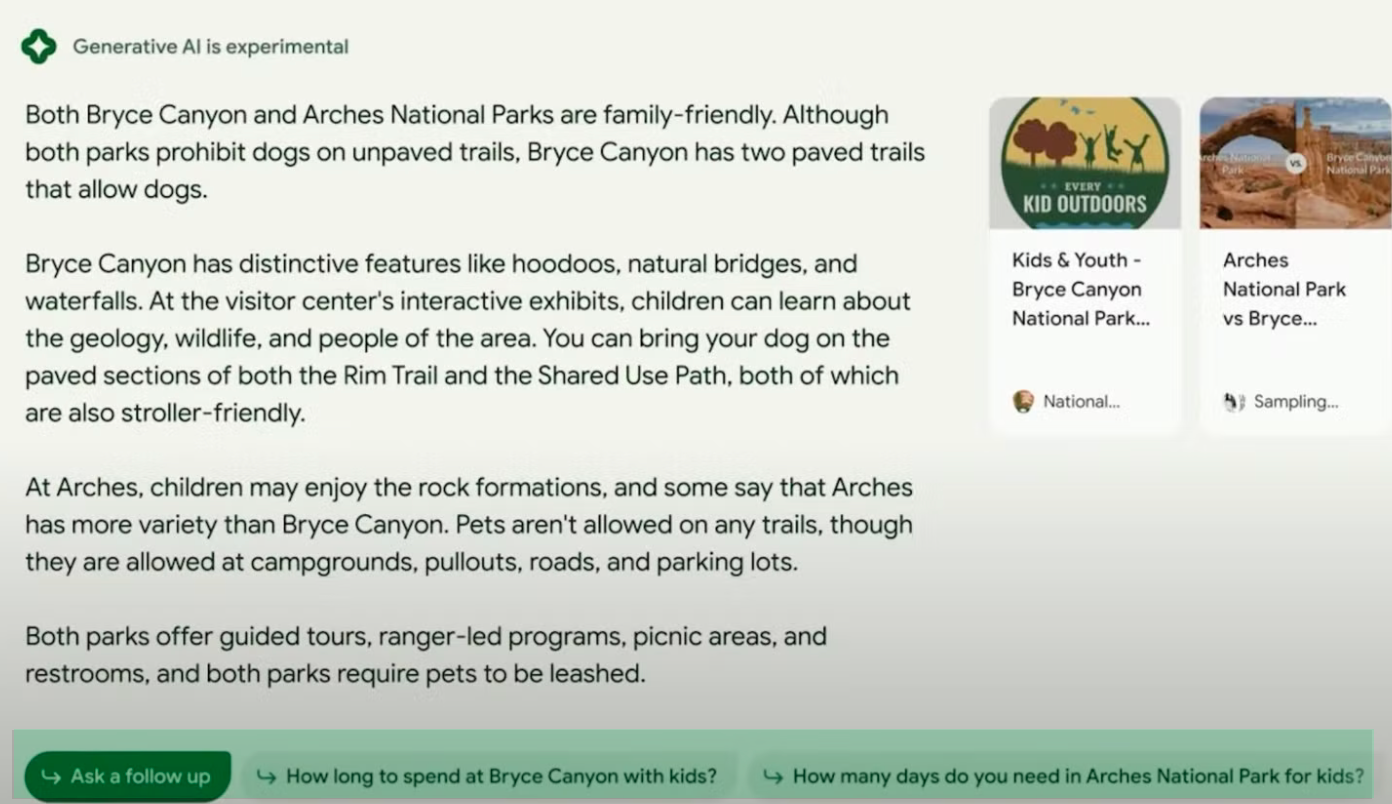 Conversation prompts look further to contain searchers in a generative AI feedback loop. A searcher can ask follow-up questions that build on their search. This change is the most pronounced ChatGPT functional resemblance. 
Traditional Links
We'll find traditional search links below the generative AI display block, which often should serve below the fold. This is the most substantial differentiating factor from ChatGPT, which offers no sources. Equally, this provides optimism to publishers fearing these changes may wipe out clicks entirely. 
Our POV
Publishers sounded alarms at Google's changes to search results pages because, at first appearance, the new interface appears to siphon away valued clicks by replacing search queries with AI-generated responses.
The negative sentiments aren't without merits. Like featured snippets before them, this new scenario likely does lower clicks to publishers who worked hard to find their way to the top of search results. 
It is essential to maintain perspective. Although featured snippets and voice search were once considered the downfall of SEO, the practice has evolved and expanded SEO. 
Google's inability to properly appease search queries gave rise to ChatGPT, their current most prominent, historically threatening competition. Google's proposed changes to search help users by serving improved results offer opportunities to publishers.
With change comes fear-mongering, but digital marketing as a space only exists in a constantly changing landscape. 
There's more to consider than what meets the eye in a presentation. We live in a world where sensitivity to factual information is historically high. Generative AI's most prominent criticism is that it frequently offers inaccurate information. Hence, deeper sources on search queries will matter. Look only for Google's addition of links to the AI experience, which you don't see in ChatGPT. This evolution symbolizes a concern that searchers will need more than generative AI results, particularly not for search queries which need complex, socially current perspectives. 
Publisher Recommendations
Don't buy the fear-mongering hype. Over the decades, SEO has died numerous times; only it never died. 
SEO likely gets stronger with Google's changes. 
Publishers should continue prioritizing SEO optimization with a particular emphasis on featured snippets. The search results page real estate game reaches a new level when Google's changes take effect. Ranking in the top 3 positions, or page 1 results, will be exponentially more imperative. 
Attributes such as titles encouraging clicks will also help increase an article's success with audiences looking for more complex information. 
Improve content. Because generative AI produces content, we should assume a flood of AI content is now populating search. With that, stand-out content will reach the top of results. Improvements in content should include valid authorship (experts writing content), expert perspectives, socially current inclusions, and more "to the point" experiences. There's nothing wrong with an intro, but consider getting to the heart of the matter in shorter order.
Moreover, ensuring your site's pages are technically sound and optimized for user experience will be more critical than ever. 
Publishers will need to adapt to change because change is upon us all. Some will fail, while others will thrive. Change is the only constant in the digital search landscape.
This is not an advertisement, and solely reflects the views and opinions of the author. This website and its commentaries are not designed to provide legal or other advice and you should not take, or refrain from taking, action based on its content.