Building links to your website remains a critical SEO ranking factor. Link-building, otherwise known as "off-site SEO," helps Google and other search engines validate the importance of a piece of content.
Today, 9Rooftops will explore the importance of backlinks and best, white hat practices in obtaining them. 
SEO Backlink Guide: Do Backlinks Work?
Let's begin with a necessary disclaimer. Google doesn't disclose the inner workings of its organic search algorithm. Doing so would open their platform up to potential nefarious activity, such as gaming its system for profitable rankings. 
Details regarding Google search are obtained by third-party studies, though Google occasionally offers insights through various mediums, including podcasts and blog posts. 
Backlinks: What SEO Experts and Google Says
Let's look at two responses by Google's Search Advocate, John Mueller. 
In November of 2021, Mediavine's Jenny Guy asks Mueller directly, "How important are backlinks to a content creation strategy?"
Mueller promptly notes the complexity and risk in answering the question and condemns the act of buying backlinks, stating, "that's not what we want people to do."
Mueller then downplays backlink quantity, instead focusing on the "quality" of links.
"We do use links. We use them and in some ways, to understand the overall context of a website. But for the most part, it's not something that you need to go off and kind of do these fancy schemes to get all of those links."
Mueller's answer immediately points out that links matter, but his remaining discourse focuses on backlink quantity, which often centers around paid link-building schemes. Google's Webmaster Guidelines condemn link purchasing and other link schemes. You can buy links, but you can't allow them to pass Pagerank. 
Mueller's second insight comes from a listener question from a Google Search Central SEO hangout from February 2021. The website operator asks, "what matters most? The number of unique referring backlink domains or the total number of backlinks?"
This second example offers Mueller a more specific conundrum to work out, resulting in a more insightful response. 
The site owner offers two backlinking examples involving total unique domain links, or total links. In both scenarios, the site owner assumes "total backlinks" help improve Google search rankings. 
Mueller quickly dismisses the idea of total backlinks helping a site's rankings. But following that, he admits that quality links help a site's SEO health. 
"I don't think we differentiate like that in our systems. From my point of view, I would tend not to focus on the total number of links to your site, or the total number of domain links to your website, because we look at links in a very different way." He says.
Mueller continues, pointing out that backlink quality does matter, not backlink quantity.
"We try to understand what is relevant for a website, how much should we weigh these individual links, and the total number of links doesn't matter at all. 
Or there could be one really good link from one website out there that is, for us, a really important sign that we should treat this website as something that is relevant because it has that one link. I don't know, maybe from like a big news site's home page, for example."
Beyond Mueller's insights, we turn to statistics to help us validate our claim that quality backlinks help improve SEO rankings.
According to research by popular search tool Ahrefs, the number one influencer of organic search traffic is backlinks. 
Ahrefs' research focused on a billion pages. They concluded that 90.63% of all online content gets no traffic from Google. 
Ahrefs finds that 66.31% of these pages don't have a backlink within this dormant content, and 26.29% have less than three websites.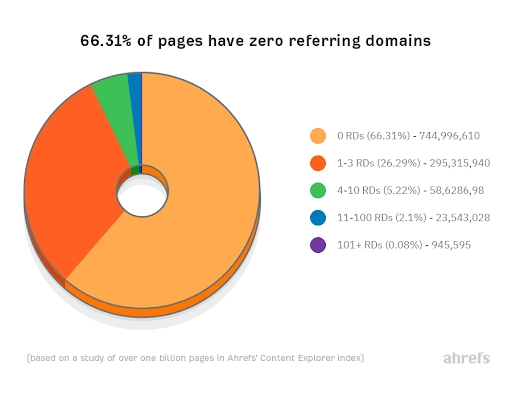 Next, Ahrefs shows a clear correlation between unique referring domains and increased search traffic.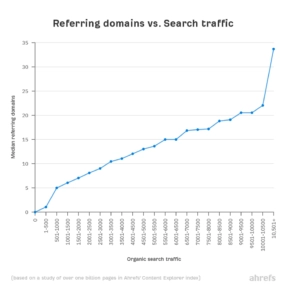 The case for backlinks influencing search rankings is strong. 
SEO best practice guides almost always list link building as an essential part of overall optimization actions. 
So what's next?
Site owners and operators should understand how to build high-quality links naturally.
How To Get High-Quality Backlinks
Building backlinks naturally may feel overwhelming. It is hard work, but nothing good comes easy. Unless your site's content goes viral, in which case, link-building could happen quickly and easily. 
Otherwise, you'll need to deploy a link-building strategy that includes some or all of the following:
Create Impactful Content
High-quality sites rarely link to untrustworthy, inept or plagiarized content. Therefore, you must create unique, helpful content. 
Your content should solve problems or offer rewards, coupons or stats. 
Create a content strategy that focuses on quality content creation. Stay in your expertise wheelhouse in regards to the subject matter. Show Google and other site owners that your content provides proficiency and solves problems. 
Contact Top-list Writers
If your SEO audit reveals that top-lists are linking to your competitors, you should take action by contacting these top-lists.
To find an example of a top-lists, you might search "the best affordable laptops in 2022." 
You'll see several top lists featuring top-budget laptops.
Contact these higher-ranking sites or the articles' writers and pitch your product. You don't want to be too wordy, instead, stay on point and be polite.
If you are in a position to offer to send them your product for review, do so. Just make sure you don't ask for a positive review or offer money; that's against Google's Webmaster Guidelines. 
Contact Journalists
Keep up with trending news in your field. When you see writers covering stories that relate to your content, reach out and introduce yourself. Let them know you're willing to act as a source for any future or past stories. 
Conclusion
According to experts and Google, quality backlinks influence SEO rankings. You build high-quality links by creating helpful content and promoting that content to relevant sources. 
9Rooftops' SEO team helps website owners improve Google rankings and create link-building strategies. Our results-driven SEO approach enables a company to create more revenue funnels and expand its brand. Contact our team today, we'd love to help your business improve its brand visibility. 
This is not an advertisement, and solely reflects the views and opinions of the author. This website and its commentaries are not designed to provide legal or other advice and you should not take, or refrain from taking, action based on its content.