Instagram recently released changes to the feed that are meant to help users better control the content they see. This latest update will show options for Favorites and Following. Users will have the ability to select Favorite accounts and focus on that content or they can navigate to Following to focus on content from accounts they're following. In both cases, content will be shown in chronological order.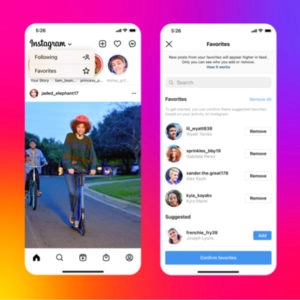 The update is being made in response to a few things happening within the social media landscape. First, social networks are under pressure to develop practices that better help young people from being exposed to too much content that could be considered negative or even unhealthy. In some cases, platform algorithms could display content that takes users down those types of rabbit holes. And then another key factor is competition from other platforms — TikTok in particular.
For brands, the question is, what does this Instagram update mean? There are several things brands should be doing to get the most out of Instagram in this new landscape.
1. Create for Instagram
While this was true even before this platform update, it's that much more important now. Creating content specifically for the Instagram platform is key to success. Repurposing content from another medium or even another social platform may not translate to audience expectations and the things Instagram emphasizes.
2. Create for Your Audience
Lean into what your audience is hungry for. Examine prior posts by engagement rates and see what can be learned and applied to future content. Even with these changes, engagements will continue to be king and play a role in the content that's displayed.
3. Make Reels
Instagram — and Meta overall — is betting big on Reels as a key method in competing with other social platforms. This content continues to be emphasized by the platform — even organically. Brands should be active here and, of course, creating very differently for this lo-fi video style.
4. Collaborate with Creators
Well-loved Creators are the types of accounts that are likely to land on "Favorites" lists. Partnering with them will prove more valuable than ever within this new format.
5. Don't Forget Stories
Stories continue to be a great way to interact with fans on Instagram — especially among a set of users that tends to spend time in Stories versus the feed. For brands that create engaging Stories, it's also a way to get coveted exposure right at the top of someone's Instagram app.
Social platforms are always changing. If you have questions about what these changes could mean for your brand and how we can help, check out 9Rooftops' Social Media & Influencer Services.
This is not an advertisement, and solely reflects the views and opinions of the author. This website and its commentaries are not designed to provide legal or other advice and you should not take, or refrain from taking, action based on its content.