Recent record levels of inflation and continuing supply chain woes have consumers feeling the pinch and marketers searching for ways to adapt. Many businesses are looking back to look forward, pulling ideas from their 2008 recession playbook, but that may not be the best approach. The reason? The population has shifted significantly since 2008 – with Millennials now being the largest generation and making up the bulk of the United States' purchasing power.
Millennials are Now Grown Up – and Resilient  
In 2008, Millennials were 20 years old on average – facing record levels of unemployment as they entered the job force. This is just years after they watched the world change on 9/11 – two major events that shaped their worldview and values. A decade and a half later, their experiences have made them more resilient, which we see in the results of a recent survey completed by 9Rooftops.
Millennials, more than other age groups, feel more prepared should they lose their job and more optimistic about the long-term impact of the economic situation – in short, they've been through bad times before and persevered.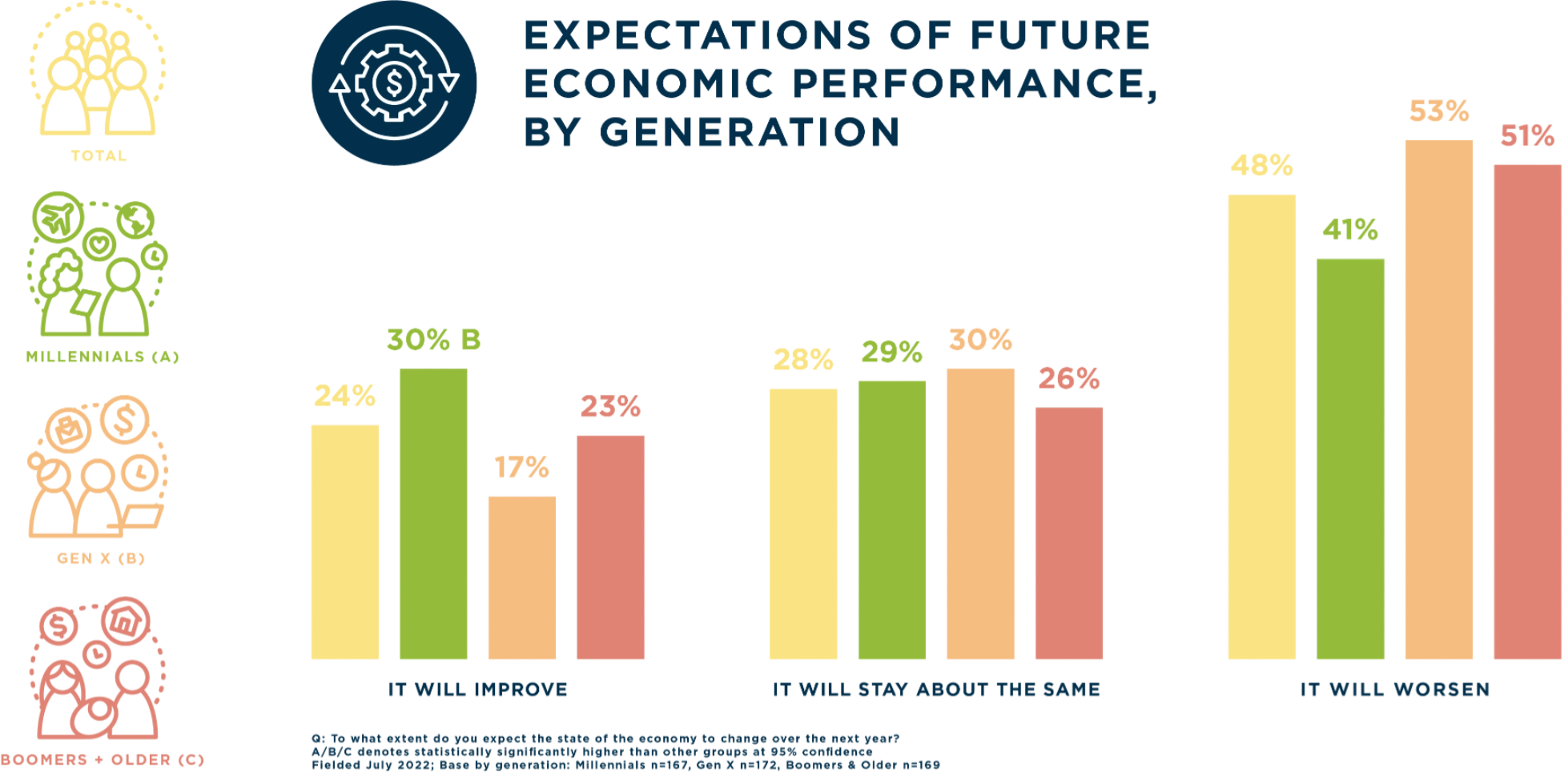 So, rather than call on lessons learned in 2008 when Gen X and Boomers were prime marketing targets, marketers must approach the current economic environment with a strong eye toward the values most important to Millennials.
Quality vs. Value
During the great recession of 2008, consumers' purchasing trends shifted dramatically. Private labels thrived as consumers opted for less expensive versions of many products to save money. Before brands assume this to be the case as we keep tabs on the current economic status, we need to take into consideration that Millennials appreciate the origin of items and in turn invest in brands that are 'sustainable', inspiring them to predominantly put quality ahead of quantity. The question for modern-day brands is – how can you reinforce value without only considering the price?
Memories Over Mementos
Value doesn't just pertain to the purchasing of a product; it also applies to the experience with the product. It's widely known that Millennials highly value experiences over stuff, a point driven home by Expedia in their 2022 Superbowl spot. That craving for rich experiences won't disappear as the economy shifts. For example, with the rising price of food, the restaurant industry shouldn't be performing as well as it is today, but with grocery prices equally high, Millennials continue to show up in favor of the experience of prepared food. It serves as a beacon to the entertainment, travel, and tourism industries, especially after COVID restrictions kept us at home for much of the past 2 years.
We also know experiences help shape our identity, make a strong connection to a brand or place, and create life-long memories. A recent survey shows nearly 8 in 10 (77%) millennials say some of their best memories are from an event or live experience they attended or participated in. An overwhelming majority (69%) believe attending live events and indulging in experiences make them more connected to other people, the community, and the world. A brand that can help make experiences accessible in a more challenging economic time is poised to win.
Self-Care to Cope
Perhaps driven by the world events of their formative years, Millennials are also showing more propensity to utilize coping mechanisms to deal with stressors and concerns. More than other age cohorts, Millennials report socializing, spending time outdoors and focusing on personal interests as the tools they call on to cope. Brands should take heed to these behaviors and consider how their products and services help their customers continue to broaden and reinforce ideas of self-care.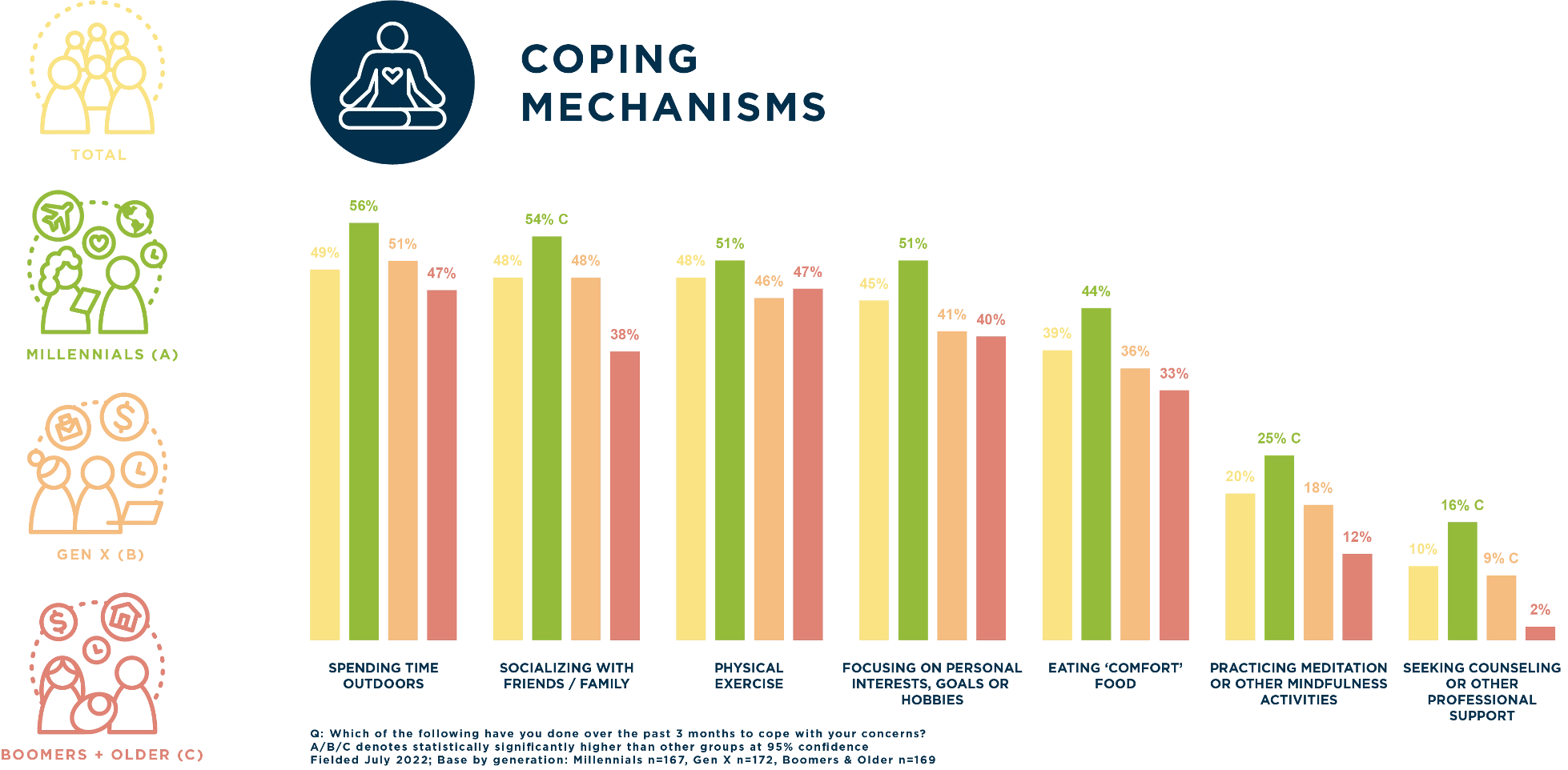 As Americans continue to face economic hardships and brands feel the impact on their sales, it can be tempting for marketers to use familiar tools like promotions and price cuts. However, to do so without attention to the nuance of the population shift of the past 15 years – and the core values of maturing Millennials — could leave brands with bigger problems down the road.
This is not an advertisement, and solely reflects the views and opinions of the author. This website and its commentaries are not designed to provide legal or other advice and you should not take, or refrain from taking, action based on its content.