If you're managing a brand's social media, chances are, you've been asked "why aren't you on TikTok yet?"
With a sigh and quick shudder down your spine, you know it's just not that simple. Sure, TikTok is the epitome of short-form content, but any content creator can tell you that there's a lot more to putting together seamless transitions, creating ideas and adding catchy music than meets the eye. 
Add being a brand to that and you've got many more layers to peel back to make a successful TikTok strategy. 
With TikTok continuing to take over the world, being a brand on social media adds somewhat of an obligation to join the platform. The content just works, and you know it can work for your brand, but you just don't know where to start. But with the right tools, insights and team (as well as plenty of patience), your brand can find its sweet spot in the algorithm. 
Why Does TikTok Matter?
Some may find this answer obvious, but many brands' first hurdle in dipping their toe into the world of TikTok is their stakeholders. 
In fact, it's easy to forget just how young TikTok is, especially compared to the tried and true methods marketers have used for decades. TikTok didn't even make its way to the masses until 2018; compare that to Facebook's release in 2004, followed by Twitter 2006 and Instagram in 2010.
Despite its young age, TikTok's hold on the social world is unmatched. Audio matters here and plays a monumental role unlike other platforms. The diversity of its audience makes it a game changer for brands; TikTok may be associated with a younger audience, but its audience is aging. In 2022, 47% of users are between 10 and 29 compared to 62% in 2021. The range of content spans wide, with topics ranging from #CrypTok all the way to #familytime. There's content for anyone, anywhere, and brands can take advantage of that if they do it right.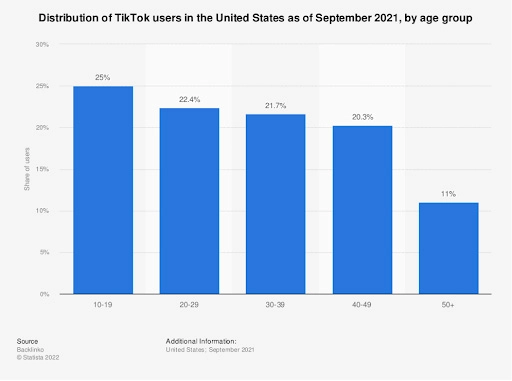 TikTok isn't slowing down anytime soon, either. It's on pace to reach 1.5 billion users by the end of 2022. Even though videos can reach up to 10 minutes long, top-performers reach 21-34 seconds max, and TikTok remains the most engaging social platform out of them all with an average user session of 10.85 minutes. That's triple the length users spend on Instagram (2.95 minutes) and twice as long as Pinterest (5.06 minutes). In Summer 2022, TikTok also surpassed YouTube for the average time spent per user per month in the U.S. 
Unlike other platforms, where brands have to tailor their strategies to fit into an algorithm based on who you follow, TikTok's algorithm is purely based on interests. Content creation has a more accessible feel, and lo-fi content is favored over highly-staged content, making it an easier avenue for brands and content creators alike. 
How Can I Make My Brand Go Viral?
Stop trying. It's as simple as that.
You cannot plan to go viral. Not just on TikTok, but on any platform. Going viral should never be a KPI or goal. It's not a long-term strategy. But thanks to news coverage on challenges, dances and little kids obsessed with corn, going viral is the first thing that comes to mind with TikTok. 
Even if you achieve viral status on a TikTok, it doesn't do anything substantial for long-term success on the platform — or  your brand. Having a successful brand presence on social media overall, including TikTok, is more important than a one-hit wonder. 
So what's the key to success? Developing your audience and building engagements over time. As you relate, entertain and educate your audience, you'll see numbers grow naturally. 
How Can Brands Be Successful on TikTok?
TikTok sounds easy enough, right? But if you're a brand, you know you can't just jump on any trend. Your legal team won't let your brand use that trending audio, reference that viral joke or show your product in that certain way. There are many hurdles you have to jump, and for teams who are trying to figure out the best approach, it can be overwhelming. Here are eight factors to consider when building a successful TikTok strategy:
Blend with TikTok.

Brands need to approach TikTok from a consumer's perspective, planning content for the audience rather than creating content the brand

wants

to create. People come to social media to find relatable content that entertains, educates and connects, not to be sold products. Find ways to blend your messaging with TikTok-worthy content, but be mindful of authenticity as people are quick to call out brands—and they aren't afraid to be mean.

Embrace the aesthetic.

Content shouldn't feel contrived and produced. Highly produced content may work on other platforms like Instagram, but TikTok's success is due to its low-key, easily digestible content that taps into relatable moments brands must authentically adapt to. Don't be afraid to show the unpolished, natural side of your brand.

Don't jump on every trend.

You hear over and over again that you have to use the top-trending audio or the current challenge, but that can be extra tricky for brands (especially since you most likely have to use royalty-free music).

Trends have a wide range and can be executed in many ways, even through simple static memes, but that doesn't mean your brand has to be part of that conversation. While it's important to participate while the fire's hot, keep in mind that they must relate back to your brand for it to be authentic and relevant. Don't just jump on a trend just to do it and try to get viral, or your content will have the opposite effect.

Work with relevant influencers.

Influencers continue to be key to social media strategy, even more so on TikTok. Working with influencers is the most effective way for a brand to spread their message without it feeling forced. Use their personality and unique content to authentically connect with their audience and reach new people. Still not ready to make an owned TikTok channel? Influencers are the perfect way to show up on the platform without making your own content. Collab with influencers who will create content while you target the audience you want through TikTok Spark Ads. That way, the content still shows up on their profiles, but your brand still reaps all the benefits of paid support.

Don't drop community engagement.

Half the fun of TikTok is the comments. Community engagement increases awareness and lets your brand personality shine. While reactive engagement on your own content is necessary, TikTok offers a unique spot for proactive engagement, giving your brand the chance to comment on relevant, high-performing content and build relationships. Research other brands and accounts that your followers engage with, and keep an eye out on top content you know you can properly (and legally) engage with.

Consider resourcing.

A 20-second TikTok can take hours to make, and with how scrappy social media teams can be, you don't want to bite off more than you can chew. TikTok will require daily posting for preliminary success and growth. Plan content ahead of time, and set aside full days to film all content at once. The more you plan ahead, the better, just be sure to leave some room in your content calendar for any trends you may want to optimize on (remember, planned content can always be moved to another day).

Experiment and fail.

You don't know which content will work until you try. Social media is all about trial and error, and there's no secret formula you can follow for instant success. Content that works for one brand might not work for another. Try and experiment with different formats, content pillars and tactics and ensure you're tracking metrics over time. The best thing about failure? It tells you what your audience doesn't like and the more you know about your audience, the better your content will be.

Consistency is key.

So is patience. A lot of it. Remember, social media is all about being social, which means your audience should help inform your content strategy. Your content should help you dig deep into those audience insights. As you create content people want to follow your brand for, engagements and followers will happen over time. Just keep posting, experimenting and engaging.
Want to learn more about how your brand can show up on TikTok? Meet with one of our social media experts by reaching out to us here.
This is not an advertisement, and solely reflects the views and opinions of the author. This website and its commentaries are not designed to provide legal or other advice and you should not take, or refrain from taking, action based on its content.