Hosting an event looks a little different right now. The main difference: everything is online, which can create a heap of new challenges. The good news?  We've put together our best practices for executing a virtual event for your brand to make it just as impactful.
1. Set your event goals
Before anything, you should always start with the WHY? What are the business goals of the event? What type of  brand experience would make sense to achieve your goals? For example, if the goals of a live product launch event were generating press coverage, social media impressions and consumer awareness or trial of the product, for the virtual event it may make sense to consider hosting multiple types of virtual experiences to customize the experience to each target or goal.
2. What's your type?
And no, we're not talking font type. Is your event going to be paid or free? B2B or B2C? Interactive? The type of event will help you pick the right platform and shape the best communication plan, show-run and timeline needed for a virtual event. Remember, consumers can easily access platforms such as Instagram, Facebook and YouTube, but they also have drawbacks in terms of brand customization and attendee engagement.
3. Draw them in
People are living on video calls these days, so you've got to spice things up to get people excited! Consider providing an incentive or incorporating a celebrity or talent performance if it makes sense for your brand.
4. Pick your tech
When it comes to technology there are many great options, but you have to sort through the clutter to find the best one for your brand. Some things to consider — using existing in-house technology, one-off use vs. annual contract, interactivity needs, the number of people attending and, of course, BUDGET!
5. Make it look like a million bucks
The production value of your video content is critical to hosting a successful online event for your brand, but you don't need a big budget to make things look expensive. Simply investing in cameras, lights and sound equipment for presenters is a great start.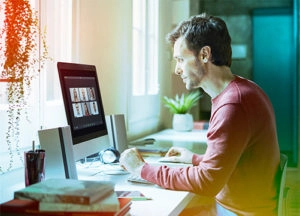 6. Keep it tight
Tight sections, tight advice — present only what's most important during the event, and then follow up by sending materials people can view on their own time.  Zoom fatigue is real!
7. Lay the groundwork
Let your attendees know what to expect by providing a detailed plan for before, during and after the event. The more informed they are, the more likely they are to stay engaged. What else helps engagement? Giving people something to do. Send something to attendees IRL in advance of the virtual event. Tangible brand materials can and will enhance your audience's experience.
8. In this together
Just because people are tuning in from their own homes doesn't mean they have to experience your event alone. There are lots of ways to promote attendee interactions — whether that be by ice breakers, trivia and games, or by breaking off into small group discussions on specific business interests.
Taking branded experiential events from the real world to the online world is no small task. But by following the right steps and using the right tools, you can become a virtual event master in no time.
Be sure to check out 9Rooftops Experiential Marketing Services for a deeper dive on our expertise.
Looking for more help? Contact the 9Rooftops Experiential Marketing Team  – we'd be happy to help you think through the best virtual event experience to meet your needs.
This is an advertisement, and solely reflects the views and opinions of the author. This website and its commentaries are not designed to provide legal or other advice and you should not take, or refrain from taking, action based on its content.